EPO News Network - ENN
Child Labour
THE CHILD LABOR
Environmental Protection Organization
EPO
Wordsworth has said: "The child is father or the man." Children are our future. Now when they are so important, we must realize what are doing for them. Have we succeeded in providing them the basic necessities of life such as education and health care? Although the government NGOs and other organizations are busy in solving the problem of child labour yet nothing seems to have come out of their work. Poverty is the main case of this failure. The poor parents are forced to push their children into practical life at an early age. Such children face a life of hardship and deprivation.
Children can be seen working everywhere. They work in small hotels, tea-stalls, as domestic servants, sweeping floors in small industrial workshops, office boys and staff assistants. They are seen cleaning cars parked on roads, polishing shoes, selling goods and many other such odd jobs. There are about two million Families in Pakistan living in bondage in various sectors. Of these nearly eight million are children. The main sectors in which the children are made to work are the agriculture sector, the brick kiln industry, carpet weaving and domestic service. These children earn money for their families. They are deprived of the joy of childhood. They cannot go to school to get education. Because of continuous overwork they fall a victim to various diseases. Most of them suffer from malnutrition.....
Read more: Child Labour
Which Trees Offset Global Warming Best?
Which Trees Offset Global Warming Best?
Some trees are better than others at absorbing carbon dioxide
Trees are important tools in the fight to stave off global warming, because they absorb and store the key greenhouse gas emitted by our cars and power plants, carbon dioxide (CO2), before it has a chance to reach the upper atmosphere where it can help trap heat around the Earth's surface.
All Plants Absorb Carbon Dioxide, but Trees are Best
Read more: Which Trees Offset Global Warming Best?
First Hybrid Solar and Gas Power Plant Under Construction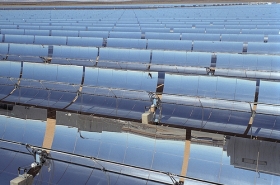 The sunshine state is in the spotlight for a groundbreaking solar plant that will add solar thermal collectors to an existing gas fired power plant. The result will save 2.75 million tons of greenhouse gas emissions over 30 years, while providing reliable power.
Natural gas power plants are criticized for generating power from a costly fuel source. Solar power is criticized for generating electricity only when the sun shines (although solar energy storage is solving this problem). Could this hybrid power plant be a marriage made in heaven?
"Each sunrise will be the equivalent of taking our foot off the gas and letting the plant run on clean, emissions-free, solar power," said FPL Group CEO, Lew Hay.
Read more: First Hybrid Solar and Gas Power Plant Under Construction
Renewable Energy Capacity Fuels Power Growth in January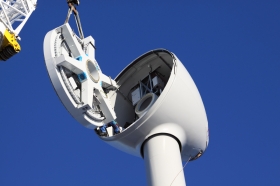 The latest Energy Infrastructure Update released yesterday by the Office of Energy Projects at the Federal Energy Regulatory Commission reports that the US had 1,231 megawatts (MW) of new in-service generating capacity come online in January of 2013 — all of it from renewable sources including wind, solar and biomass. The new capacity for January represents a three-fold increase from the 431 MW of new renewable generating capacity that came online in January of 2012.
Wind energy led the pack with six new units providing 958 MW, followed by 16 new solar units generating 267 MW of electricity and six new biomass units for 6 MW of new generation. Nuclear, hydro and all fossil fuel sources, including coal, oil, and natural gas offered no new electrical generating capacity last month.
Most generating capacity still comes from coal and natural gas, contributing 29.04 percent and 42.37 percent respectively. Generation from oil contributes only 3.54 percent and nuclear provides 9.23 percent of total capacity in the US.
But renewable sources continue to enjoy strong growth, now accounting for 15.66 percent of total installed U.S. generating capacity. Broken into their aggregate parts, hydro provides 8.50 percent of total capacity, wind 5.17 percent, biomass 1.29 percent, solar 0.38 percent, and geothermal with 0.32 percent. "Generating capacity" is not the same as actual generation. Actual net generation from all renewable sources now totals approximately 13 percent, according to the US Energy Information Administration.
Renewables Now Cheaper Than Fossil Fuels in Australia
A study by Bloomberg New Energy Finance (BNEF) in Australia has discovered that renewable energy is cheaper to produce than the old conventional fossil fuel sources, and that is without the subsidies.
The study shows that electricity can be supplied from a new wind farm at a cost of AUD 80/MWh (USD 83), compared to AUD 143/MWh from a new coal plant or AUD 116/MWh from a new baseload gas plant, including the cost of emissions under the Gillard government's carbon pricing scheme. However even without a carbon price (the most efficient way to reduce economy-wide emissions) wind energy is 14% cheaper than new coal and 18% cheaper than new gas.
Read more: Renewables Now Cheaper Than Fossil Fuels in Australia